WHY CHOOSE
DIRECTION SCHOOL?
The current scenario of the schools has become somehow unpleasant for the parents as not all can afford the very high fee and no one wants his kid to lose religious and moral values. Moreover, the standard of education has now been limited to a few 'Big Schools' where children receive an expensive education at the cost of their traditions, modesty and values. Therefore, a common man worries about the education of the children because:
Lack of Islamic and moral values.
No understanding classes of Quran and Sunnah
Co-education
Celebrations of un-Islamic days and festivals
Distorted and unreal history of Islam and Pakistan
Very high fee
Lack of patriotism.
Drugs, vulgar language and attitude.
Lack of conceptual learning
No career counselling.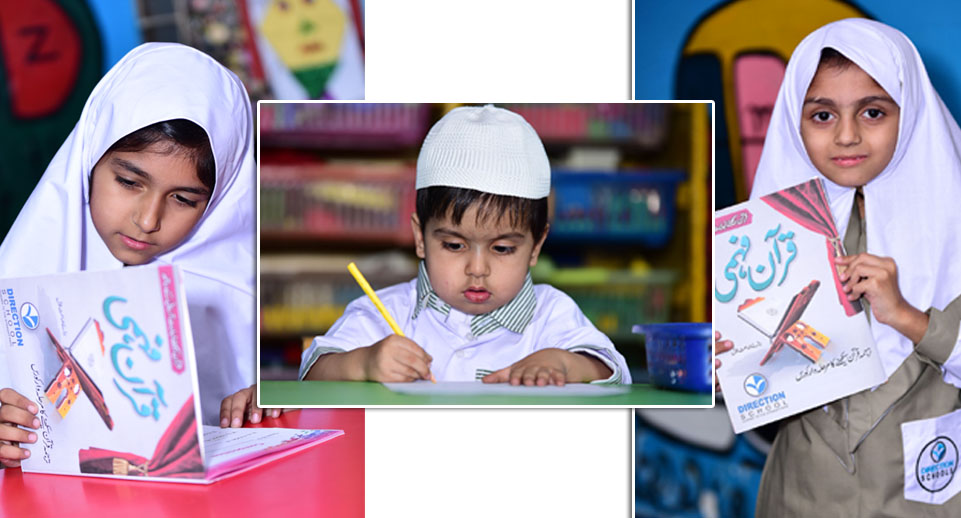 SOL
UTION?
The solution is the Right Track of Education! The Right Track of Education is the school, which nurtures the moral values, consolidates Islamic beliefs with its practicalities and caters modern education with all academic excellence.
We, at DIRECTION School, interpret The Right Track as SIRAT AL-MUSTAQEEM (The Straight Path) – the successful direction of human life. DIRECTION School pledges to provide its students with a structured and a disciplined environment which provides opportunities for the overall development of the child. We promise to impart top quality, value based education that honours and promotes the precepts of the Holy Quran and Sunnah. Our entire Education approach focuses that education should be for life and not just for earning a hefty living and knowledge must have practicality that helps in this life and the life hereafter.